Director: Rob Savage
Starring: Haley Bishop, Jemma Moore, Radina Drandova
Review Author: Tony
The harsh reality that many of our most anticipated film releases this year are essentially on ice because of the Covid pandemic has definitely been a hard pill to swallow. With no release dates for films such as A Quiet Place: Part II and Antlers, I've found myself scouring through Netflix and VOD services for my horror fix. Thankfully, the horror streaming service Shudder has been a goldmine for quality content both old and new, with a catalogue of horror classics, the latest cult films, and recent original content exclusive to the service.
Host, directed by Rob Savage, is the first horror film this year that uses the worldwide epidemic as a backdrop. While here in Ireland we're out of the initial lockdown phase and can gather in small groups, albeit socially distanced, the reliance on the initial Zoom calls to socialize in the early months was essential.  Taking a worldwide means of communication and utilizing it as a horror set up is an inevitable but inspired concept, especially for how important and personal it has been for millions across the globe.
Amid the global Covid pandemic, a group of friends organise a weekend Zoom call to perform a séance with a medium for a unique adventure. The friends, mostly girls, are excited and a little worried about the experience but reassure one another that new experiences are important in these crazy times. The medium hired for the séance, Seylan, walks the friends through what they should expect and the importance of following the rules for a completely safe environment. What starts out as a pretty tame escapade soon devolves into a nightmare when one member of the group breaks the rules and invites calamity for the entire assembly of friends.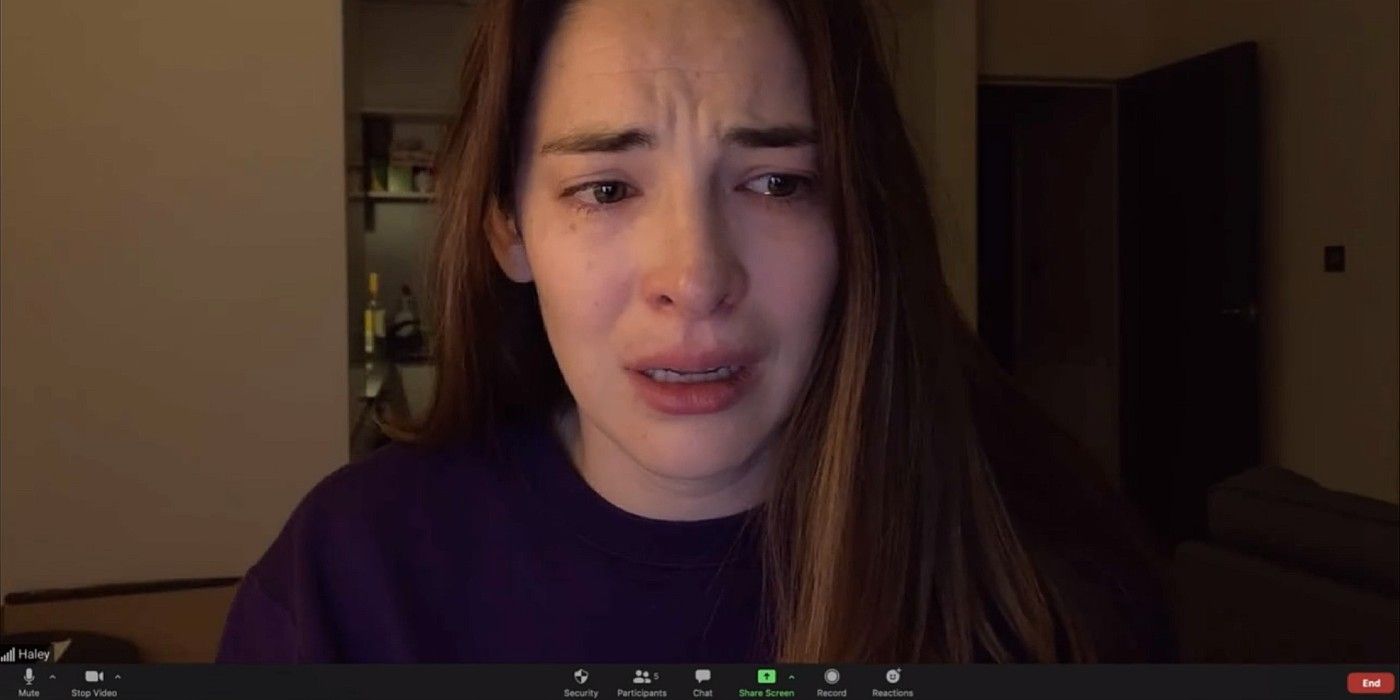 Host is the latest film set entirely on a device/desktop screen, following in the footsteps of recent films such as Unfriended, Searching and Open Windows. It's a unique storytelling medium (a sort of subgenre of the found footage film genre) that lives and dies on the characters in front of the screen. Thankfully Host has a wonderfully believable ensemble of characters who bounce off each other with wonderful chemistry. A common criticism thrown at the found footage genre is why would someone continue filming in such dire circumstances? A valid point that filmmakers have taken onboard and utilized more creative methods or sets of rules to justify why the cameraman or character's point of view remains powered on. Director Rob Savage does a decent job of explaining why everyone must remain stuck to their screen as terror engulfs them.
The scares are largely effective, although a few of the jumps border on cliché or appear a little too familiar (Paranormal Activity wants its dragged chair scare back). However, the intense pacing delivered many of these familiar scares more effectively than the original films, and Savage invokes plenty of unique jumps through app filters and custom backgrounds featured on Zoom.
With a runtime of 54 minutes, Host barely fits into the category of a feature film, but this is perhaps its biggest strength. Rather than drag out the concept and rely on cheap scares or thrills, the film keeps the threat both immediate and always present. Trimming the fat allows Host to keep the narrative in one gear as the terror escalates on screen. Watching the horror unfold on a laptop/tablet screen gives the viewer a sense of relatability, especially watching it in the dark like I wish I had not been. Ultimately Host is a film that doesn't reinvent the wheel but has plenty to offer with a great cast, effective scares, and a very current setting.
Rating: 3.5 / 5 Astral Plane Shots