Director: Max Barbakow
Starring: Andy Samberg, Cristin Milioti, J.K. Simmons
Review Author: Tony
No matter how long the concept of a time loop has appeared in fiction or how many projects utilize it, the sad reality is any piece of media looking to to use it will inevitably be compared to Groundhog Day. The cult classic film deservedly remains the benchmark for the time loop genre because of its creativity, charm, thoughtfulness, and humour. Fortunately, we've seen a lot of recent quality entries to the subgenre such as action sci-fi, Edge of Tomorrow and horror comedy, Happy Death Day and its sequel which have all put their own spin or evolution of the concept. Palm Springs released on HULU, looks to return to rom-com territory with an updated twist.
On the 9th of November, Nyles wakes up in his hotel room beside his girlfriend Misty on the day of Misty's friend's wedding. After Nyles day drinks and shares his nihilistic views with fellow attendees, he delivers an inspired speech at the wedding which catches the attention of the bride's sister, Sarah. Sharing a passioned night together, Sarah is horrified by the sudden appearance of a crossbow wielding maniac hellbent on hunting Nyles. Following an injured Nyles into a cave, Sarah is enveloped in a bright light which transports her to the 9th of November. It becomes apparent that Nyles has been trapped in an infinite time loop on the day of the wedding, which he must suffer as a plus one forever.
While Andy Samberg has become the face of the comedy trio, The Lonely Island, their best work has alway been a collaborative effort. Sure, Samberg is great in the entertaining but toothless tv comedy, Brooklyn 99; his best work has always been a part of the group's music videos and cult films. While Hot Rod, Popstar: Never Stop Never Stopping, Brigsby Bear and The Watch (fuck ya'll, this film is so underrated) may not have achieved either financial or critical success, each film has a plethora of die-hard fans who enjoy the groups irreverent humour. I'll flex right now and say I've been a fan since the Just 2 Guyz and Nintendo Cartoon Hour days (There's a cat in a tuxedo, surfing!!!).
While the film covers a lot of beats seen in Groundhog Day such as wacky scenarios, depression, and suicide, it also explores the mental toll on the character more than expected. Nyles and Sarah might share a common sense of sarcasm and nihilism, but their growing affection for one another complicates their lack of values. The highlight of the movie lies on Samberg and Milioti's shoulders, who both deliver stellar performances with an abundance of chemistry and sharp wit.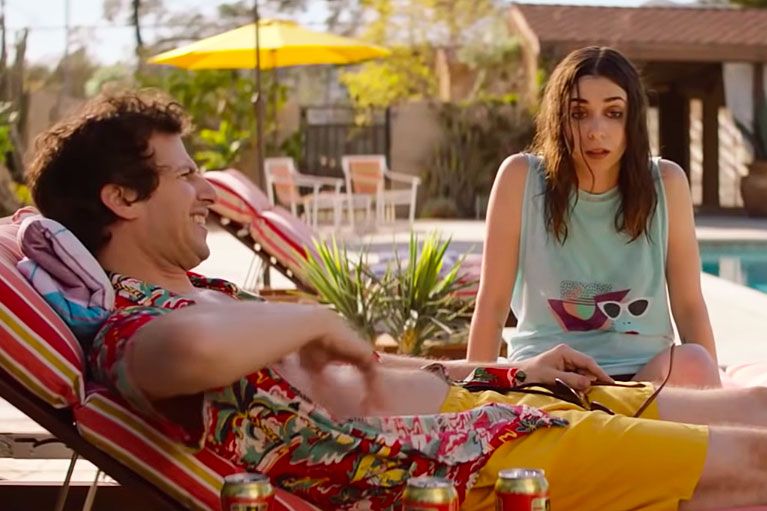 The importance of exploring a well-travelled concept is to take your own path and inject a certain amount of self awareness. Palm Springs offers plenty of laughs and dark humour. While the same day may repeat over and over, there are consequences which allows the film to explore some murky subject matter. I'll refrain from revealing anymore info as I wish to avoid spoilers but Palm Springs boasts one of the smartest comedies in years with an easily digestible 90 minute runtime packed with laugh out loud moments and career best performances from Samberg and Milioti.
Rating: 4.5 / 5 Pina Coladas