Director: Bob Persichetti, Peter Ramsey, Rodney Rothman
Starring: Shameik Moore, Hailee Steinfeld, Jake Johnson
Review Author: Tony
I must admit that I went into the screening of 'Into the Spider-Verse' with a defensive attitude, this was being labeled as the best Spider-Man film to date and I just thought there is no way in hell this film can take that mantle from Sam Raimi's Spider-Man 2. Childish and Petty? Of course, but Spider-Man 2 just holds such a place in my heart due to the quality of the movie itself and the man behind the camera. Spider-Man was my jam during my childhood, sure Batman and Superman were held in high esteem, but it was the wisecracking web-slinger that had my attention (despite my crippling arachnophobia).
Now all of this is not to say that I entered that screen with my mind made up or with predetermined negative notions towards 'Into the Spider-Verse'. I was just a little wary of the high praise considering a felt a little deflated with Spider-Man: Homecoming especially after the outpouring of praise. Despite this armour I had built I was delighted to see the film receiving such a warm reaction especially after the jaw-dropping trailers. There has been no shortage of Peter Parker's on the big screen throughout the years so seeing Mile Morales finally making his film debut was an exciting prospect, especially with dynamic duo Phil Lord and Chris Miller's involvement.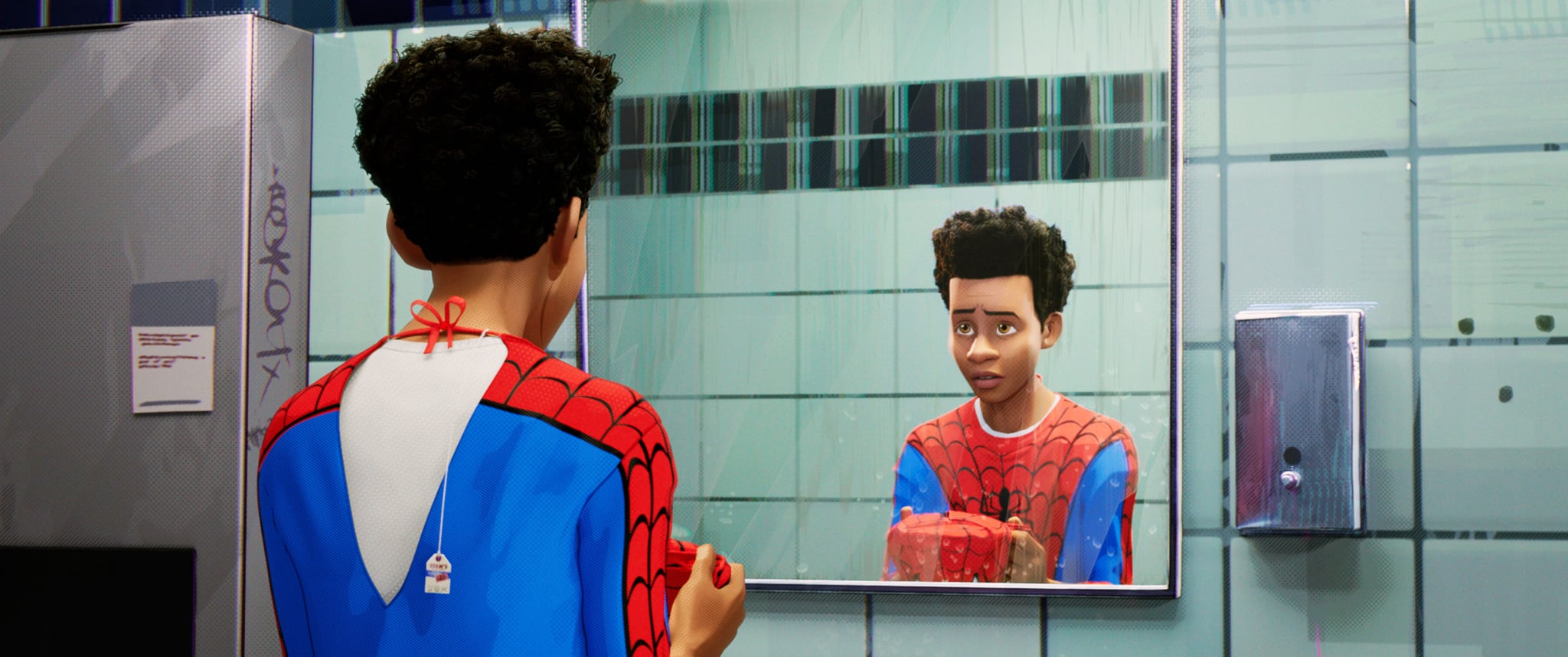 Mile Morales is a New York teenager who finds himself adjusting to his new elite boarding school. Miles struggles to fit in and after a stressful day visits his uncle Aaron to chill and seek advice. Miles and Aaron visit an abandoned subway so Mile can hone his talent for graffiti but is bitten by a radioactive spider. Soon Miles begins to develop abilities similar to his hero, Spider-Man. While visiting the abandoned subway to try to find his uncle Aaron, Miles encounters Spider-Man as well as The Kingpin who has created a dimension-hopping device. After narrowly escaping, Miles begins to encounter other's like him but from alternate dimensions who must all band together to stop Kingpin and return to their dimensions before it's too late.
The animation style is unlike any I've seen before. It's this insane blend of 3D, CGI and visuals directly ripped from the page of a comic book. It even has the speech bubbles and white dots from comics that makes it look like a literal living comic. Even more interesting is that each different Spider-Man variant has a different animation style from anime to the Looney Toons inspired Spider-Ham. It's so unique and an absolute visual feast to witness.
For a story that includes such a large cast, each is given their own motifs or moments to stand out. The voice cast is an incredible line up of talent with each really pouring their soul into their respective characters. It's hard to point out any particular performance but I have to mention Nicolas Cage's second best performance this year as Spider-Man Noir which is a great reminder of this actors comedy chops.
Not only has this film snatched the crown of best superhero film of 2018 from 'Infinity War' at the last second, but the harsh reality for me was also that it surpassed Spider-Man 2 as the best Spider-Man film to date. It really is a combination of excellent filmmaking, respect for the source material and a fantastic voice cast. Into the Spider-Verse manages to dazzle with unique and kinetic visuals and a fresh exciting soundtrack with exciting fight scenes but genuinely touching moments.
Rating: 4.75 / 5 Shots of Whiskey