Director: Ninian Doff
Starring: Rian Gordon, Samuel Bottomley, Eddie Izzard, James Cosmo
Review Author: Tony
Synopsis: A group of student delinquents are taken to the Scottish Highlands to partake in the Duke of Edinburgh Award; a youth program set up to improve young people's prospects through a team building exercise in the highlands. The three friends aren't the brightest sparks, infatuated with hip-hop, arson, and poorly mixed hash with little interest in the award itself. The group is joined by Ian, an intelligent but timid lad of similar age who joined voluntarily (implied at his parents' insistent). When left to their own devices, most of the group is more concentrated on getting high to Ian's frustration, who is both hoping to achieve the award and connect with some teens his own age. Unfortunately for the quartet, a mask-wearing couple of lunatics has chosen the youngsters as their latest prey as they pursue them hot on their tails.
The screenplay is wonderfully inventive, picking a choosing from a grand variety of creative filmmakers such as Edgar Wright, Joe Cornish, Ben Wheatley, and Shane Meadows to construct a sum of all parts mad cap horror comedy that plays off both folk horror films of the Hammer horror days, but also plays to the sharp witted British comedies of the last 2 decades. Get Duked! threads the thin line of juvenile gags, slapstick, political satire, and allows the comedy to both fire off quickly for consistent laughs, but also revels in developing jokes with excellent pay offs later. While the horror elements are pretty much non-existent, the laughs keep coming from all cylinders.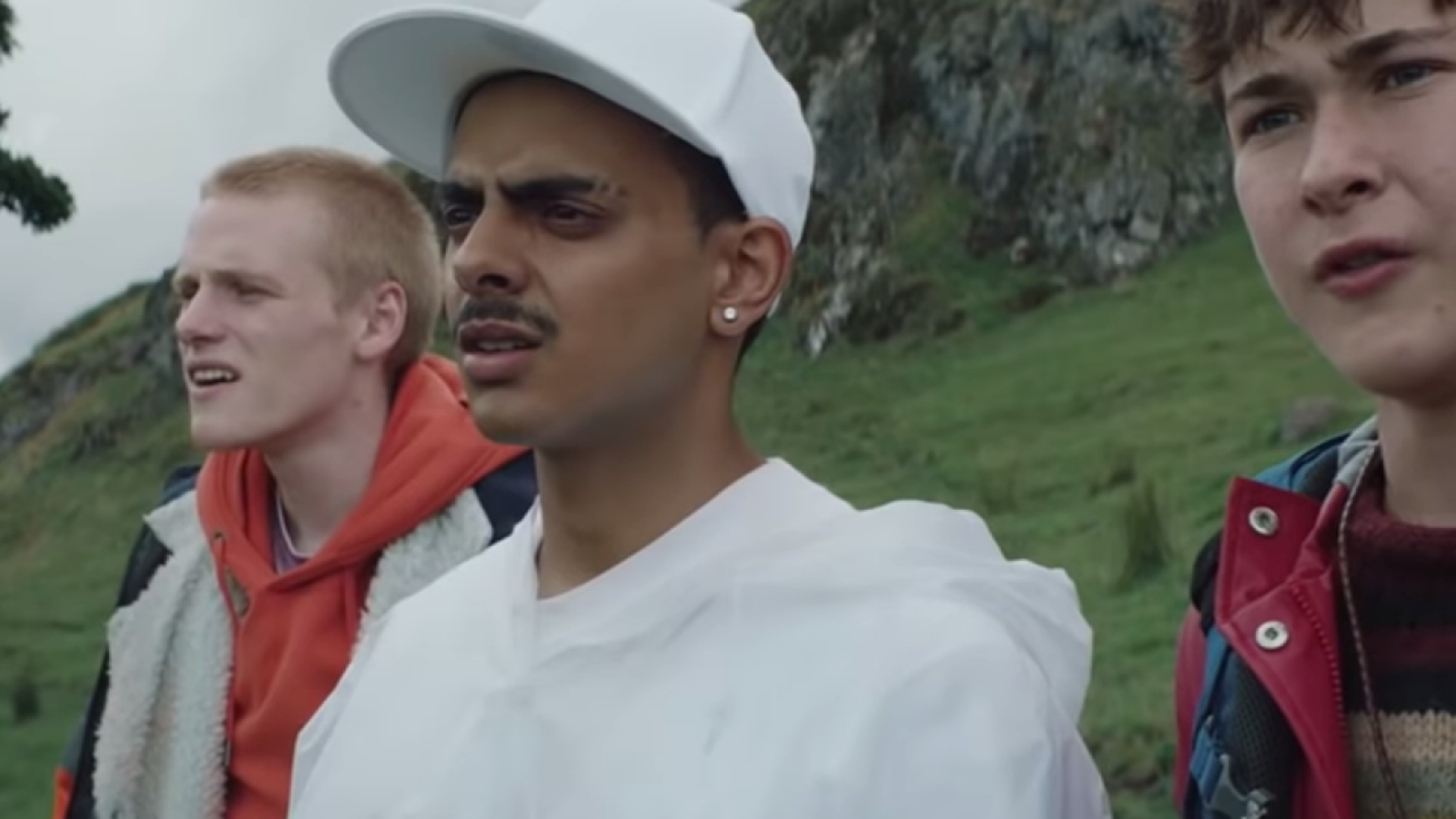 Get Duked! features an extensive cast of familiar actors. Legendary British Comedian, Eddie Izzard is hysterical as the insane Duke, determined to cull the population of undesirables and ungrateful youth. James Cosmo is equally brilliant in his short cameo as the hard partying farmer with a penchant for eating rabbit shite laced with magic mushrooms. I could list the entire cast because every single character is so perfectly utilized, but full credit goes to our central leads. All four are relatively unknown actors, but the quartet steals the show, pulling off excellent performances.
Ian (Samuel Bottomley) plays the straight man, an accomplished young man who's been home schooled and mollycoddled for most of his life, hoping to make some friends on the trip. Dean, the most mature of the trio of friends (recently suspended due to burning down their school toilet) still displays little in both enthusiasm and intelligence. Duncan (Lewis Gribben) is the friendliest of the trio, but by far the least sharp of an already dull group of friends. DJ Beatroot (Viraj Juneja) is the aspiring rapper of the group who talks a big game about his thriving career stateside and his gang-affiliation, but can't quite keep up his bravado when the going gets tough. The four actors play off one another beautifully with fantastic comedic chops, but also a great sense of heart. While the film concludes with a potential for a sequel, I sure hope this cast comes together for future projects.
The soundtrack is another highlight infusing a modern style hip-hop that both feels contemporary and energetic, juxtaposing the film's kinetic pacing. Sporting tracks from artists such as Run The Jewels, Vince Staples, Danny Brown, as well as some memorable original music, Ninian Doff does a stellar job of matching the tempo of these fantastic songs with a visual flair clearly inspired by his previous work directing music videos.
Get Duked! is probably the best surprise I've stumbled upon this year so far. Amazon Prime might have the most useless interface of all streaming services I've signed up for, but I'll give credit where it's due for this recommendation (they also produced and backed the film). This Scottish horror comedy seems cut from the same cloth as Edgar Wright's Hot Fuzz and Joe Cornish Attack the Block with snappy quips, sharp editing, and featuring a bunch of less than heroic protagonists forced to step up to the mark in a particularly bizarre situation. Not to say that the film has ripped off Wright's energetic style, but the inspirations are clearly evident with the punchy quick shots, and sudden interjections of catchy music to elevate each scene. Get Duked! is a testament to taking homage from a contemporary director's style and creating its own entertaining film filled with memorable characters, witty writing, and a thumping soundtrack.
Rating:
Bottles of Buckfast