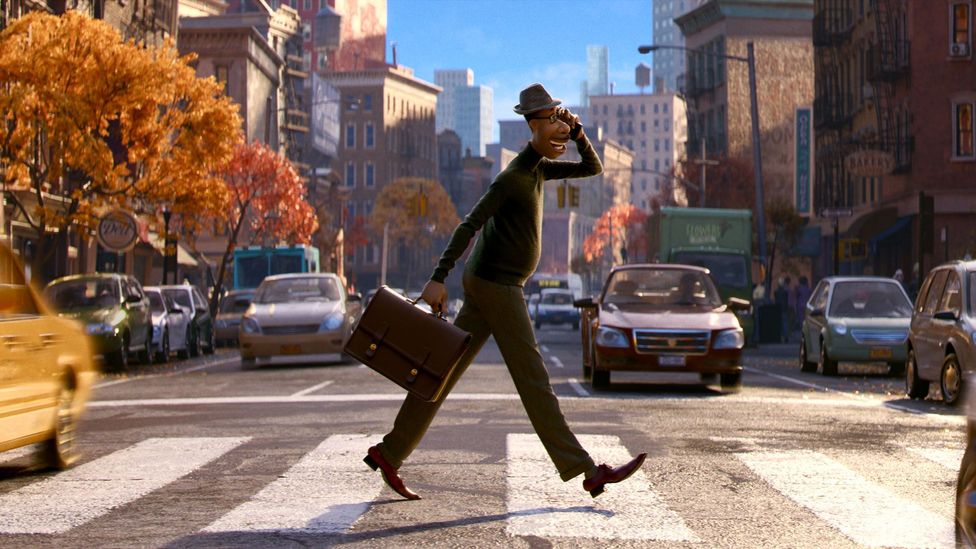 Director: Pete Docter
Starring: Jamie Foxx, Tina Fey, Rachel House
Review Author: Tony
Synopsis: Joe, a middle-aged school musical teacher, finally gets his big break to perform in a Jazz band with one of his idols. Despite years of rejection and the disapproval of his mother, Joe is over the moon and finally feels he's gotten his due. Unfortunately, while Joe is caught in the moment's euphoria, he falls down a manhole and it separates his soul from his body.
After the disappointing box office and critical reception to Onward, Pixar was left in limbo as to when to drop their eagerly anticipated animated feature, Soul. Covid had pushed just about every major film release in 2020 to the latter half of the year or delayed indefinitely. Soul saw its release date pushed back and then Disney released it simultaneously in theaters and on their streaming platform Disney+. While many, including myself, will lament the chance to see it on the big screen, it's a delightful film to wrap up a tumultuous year.
Soul features some of Pixar's best animation ever. Similar to Inside Out, many abstract ideas are brough to life with a visually impressive panache. The plane between existence is humourlessly presented as a seminar or induction conference where souls not-yet-born are shaped by mentors (souls of the deceased) to determine aspects of their personality. Despite the vivid landscapes and abundance of colours, the afterlife is not half as inspired as seeing New York brought to life through sight and sound. The city looks almost photorealistic. The character models are Pixar's best to date, and the lighting and attention to detail is just jaw dropping. You can literally see the grease on a pizza slice.
Jazz doesn't just feature as a plot device for our protagonist Joe, it's his very reason to be. When joe puts fingers to the keys of a piano, he's lost in the moment and transcends. A lovely visual cue is the background disappearing and Joe floating in colour with just the piano in front of him. Outside of jazz Joe is listless, going through the motions. His music class is grey and lifeless and his enthusiasm as a teacher is pretty wanting. The score is fantastic using several talented jazz musicians behind the scenes to create an authentic and intricate music. Trent Reznor and Atticus Ross are the Academy award-winning team behind the score which shows their versatility considering the different genres they have experimented in, both also form industrial metal band Nine Inch Nails.
The message behind the film holds a little too much weight for a children's film, but with a light touch, whimsical visuals, and decent gags, there's plenty for the little one to enjoy. Joe dying moments after getting his big break seems like the setup to a dark comedy and proceeding continues to get deeper as he meets an unborn Soul who doesn't see the point in living which he seeks to capitalize on by taking their one chance to live so he can return to his body and pursue his dream. While the narrative does trip over itself at times, the themes of living in the moment and appreciating the little things are an important message for all of us. Sure, we should all chase our dreams, but not at the cost of experiencing the weird and wonderful world around us. Was it not Darth Vader who taught us "Not to choke on your aspirations"?!!
Jamie Foxx and Tina Fey have wonderful chemistry bouncing off one another throughout. Both actors bring bundles of energy and passion to their characters. Rachel House almost steals the show as the pedantic and determined Soul accountant Terry, who doggedly tracks Joe so she can balance her Soul count. The supporting cast boasts other fun performances from Richard Ayoade and Graham Norton; I was especially delighted to hear the voice of comedian Donnell Rawlings, whose podcast I've enjoyed throughout the year of 2020. Son!!
Soul is the perfect film to leave 2020 behind with an uplifting message of living every moment to the fullest. The only gripe I could think of was the film felt like a sum of previous Pixars films that had come before, namely Coco and Inside Out (otherworldly planes of existence run by a bureaucrat administration). With a lot of Pixar/Disney's latest animated features focusing on diverse communities or cultures, Soul does an amazing job of infusing the jazz scene with an authentic New York backdrop ( the subway and pizza rat) as an ode to African Americans and real representation.
Rating:
Tumblers of Brandy