Director: Gina Prince-Bythewood
Starring: Charlize Theron, Kiki Layne, Chiwetel Ejiofor
Review Author: Tony
When it comes to graphic novel adaptations, the expectation is usually some big blockbuster with a bloated budget and a Marvel/DC logo in the intro. The mid-budget comic book movie has proven scarce as most properties reaching the big screen are a part of a committee think-tank to branch into a new cinematic universe at the expense of the movie's own original narrative. The Old Guard, released on Netflix, looked to break this industry standard by adapting Greg Rucka's well revered source material. Unfortunately, the film becomes another in a long list of drab Netflix genre films.
Andy and her squad, Brooker, Joe and Nicky are a mercenary group of centuries old immortals who take up once off jobs and keep hidden in the shadows. Discretion is their key to survival as revealing themselves would lead to capture, and more dangerously, potential replication of their abilities. Meanwhile, in Afganistan, young U.S. soldier Nile Freeman rises from the dead after a fatal incident and shares a supernatural connection with the band of mercenaries. Andy tracks down Nile and kidnaps her, explaining that whether she likes it or not, she must travel the same path as them. Unbeknownst to the group, a former client has taken a very special interest in them and is hot on their trail.
Half cooked would best surmise The Old Guard, although fractionally I believe that to be too generous. The movies one defining characteristic, immortality, is poorly expanded on with characters blurting out forced dialogue to establish the film's rules. Blink and you miss it flashback sequences pop up with little consequence or purpose other than stick characters in ancient cosplay. The villain of the film, a representative for an evil 'Big Pharma' company, literally refers to the company as 'Big Pharma' in case you miss the deep thematic approach the film was going for. Even the film's two biggest names, Charlize Theron and Chiwetel Ejiofor, appear on autopilot throughout with the latter playing an almost inconsequential role in the film.
The cinematography is desperately dull for a film that spans across the globe. Pivotal scenes take place in a modern country house and what looks like a typical college laboratory where the film's final showdown causes laughably minor damage to the surrounding area. To put it plainly, The Old Guard looks cheap. Even duller is the fight choreography where the action sequences are ripe with choppy editing and poor camera coverage producing nothing original or memorable. This is criminal when compared to Theron's previous action roles in Fury Road and Atomic Blonde, granted they have vastly larger budgets but should have set the benchmark for future action romps.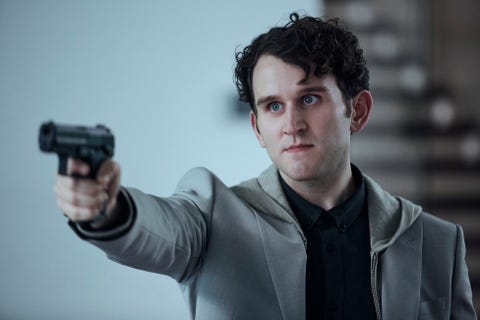 Nearly every film should contain something positive to highlight, and where there is merit is the supporting cast. Kiki Layne is our surrogate and does her best with ham-fisted lines but also shows a lot of charisma. Matthias Schoenaerts provides the most interesting character who actually displays the toll that immortality can have when you're forced to outlive your loved ones. Strangely, he's also the one to delve into Theron's tragic background, double delivering the film's more tender moments on behalf of two characters. Marwan Kenzari and Luca Marinelli play a gay couple who are the first I've seen expanded on like this in an action film and do a superb job for LGBTQ representation on screen.
While Rotten Tomatoes is an aggregate of multiple reviews and what determines a positive review can be pretty wishy-washy, it's still head-scratching to see this film currently sitting on 81% Fresh. For a 2 hour film it does so little to expand on its concept or standout from any other run-of-the-mill action film, instead The Old Guard is happy to just go through the motions in a mundane and generic fashion. Perhaps there's a certain level of serviceability to the film that has given it a pass in the eyes of viewer's and critic's, but I'm blaming Covid and the lack of film releases this year giving so many a sort of Stockholm Syndrome with Netflix.
Rating: 1.5 / 5 Cans of Tennents